---
Upcoming Events in the area!
We are starting to add events to our 2021 calendar, please keep checking that page as it updates nearly weekly. Just a few events to look forward to being added to our calendar, which we will participate in this season include:
Fix-a-test opportunities at Keep Stables (Working Equitation Dressage phase) with Dressage and WE judges/instructors
Virtual WE Series hosted by regional groups and organized with partner stables in the area.
Coached Play days on a full course of obstacles, including opportunities to explore a course and learn about each obstacle on foot, without a horse
Introduction to the cattle penning phase of WE
Schooling shows at local Affiliate Organizations in the area
A and B rated WE shows in the region, hosted by several Affiliate Organizations in the surrounding area
Recognized competitions under the newly forged national organization for Working Equitation, USAWE
Group trail rides on farm and at local parkways
Group adventures, such as play days at the Double C obstacles course
For more information and to sign up, please email keepstables@yahoo.com
---
Follow Keep Stables on Facebook for the latest news, photos, and events!
---
Working Equitation Training
Topics include
Complete beginner – introduction to Working Equitation and practice sessions with obstacles
Intro, Novice, and Intermediate level instruction for Ease of Handling, Speed practice and troubleshooting specific obstacles
Dressage discussion and practice WE-specific dressage movements
If you would like to schedule a training session, contact Holly Linz at keepstables@yahoo.com. Holly offers lessons several days a week and can give you a great introduction to the sport!
We have a fun group of riders at the farm regularly practicing Intro, Novice, and Intermediate level Working Equitation.
---
---
Pictures from our Working Equitation training, clinics, and shows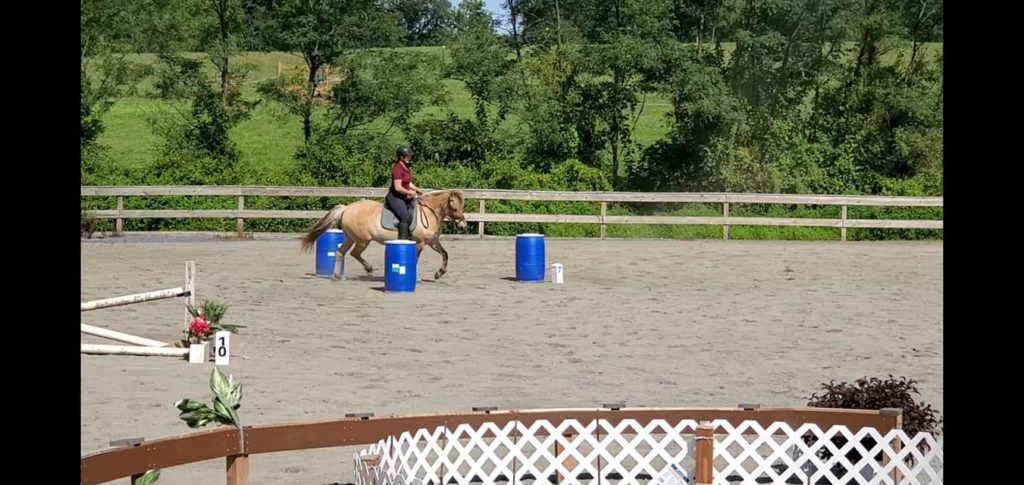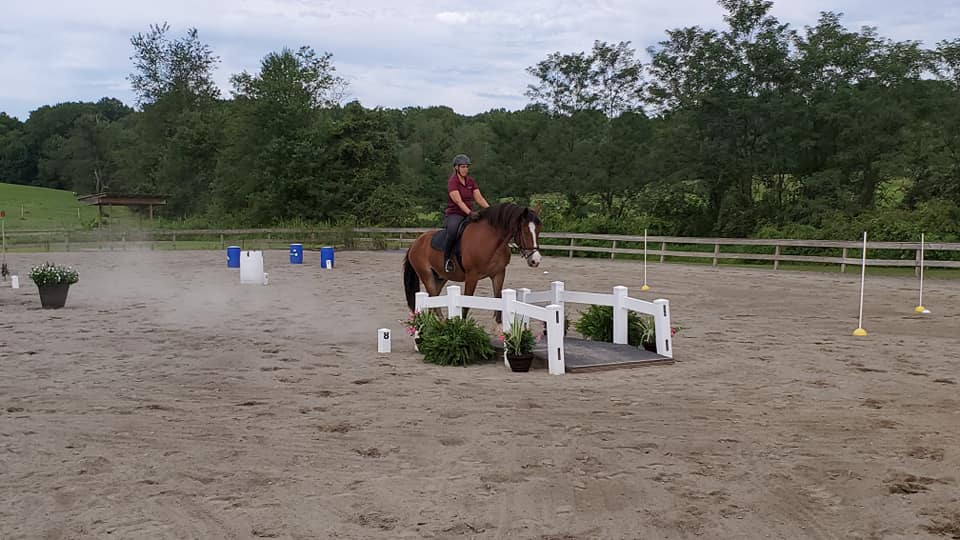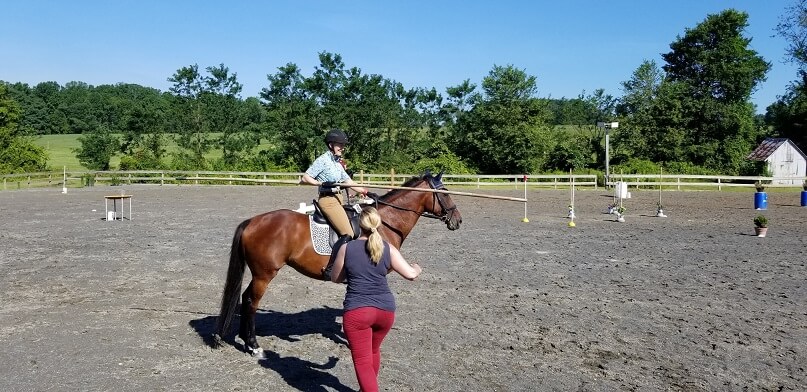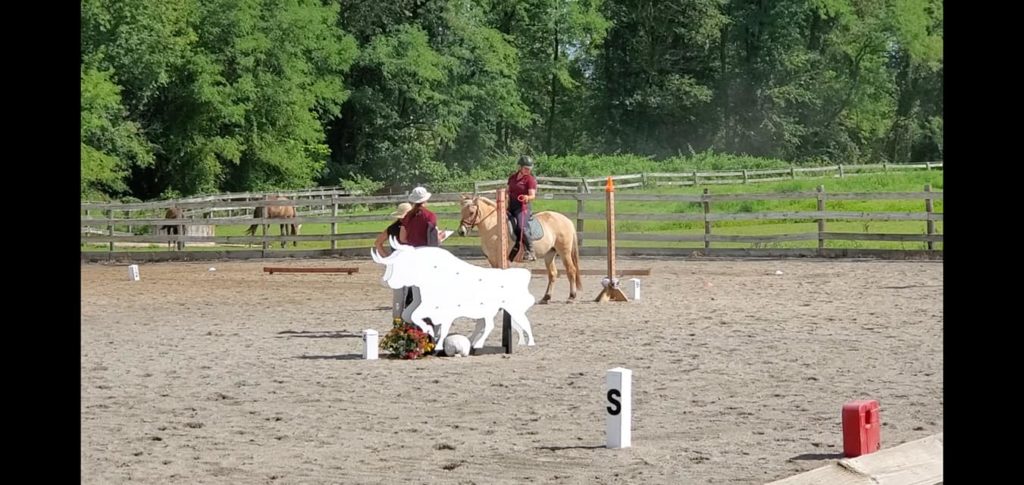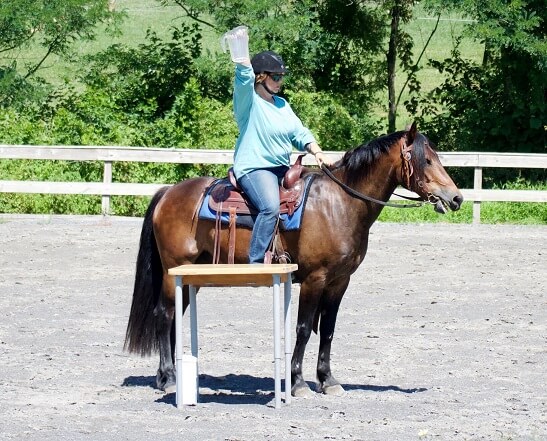 Keep Stables provides a beautiful, custom built Ease of Handling obstacle course.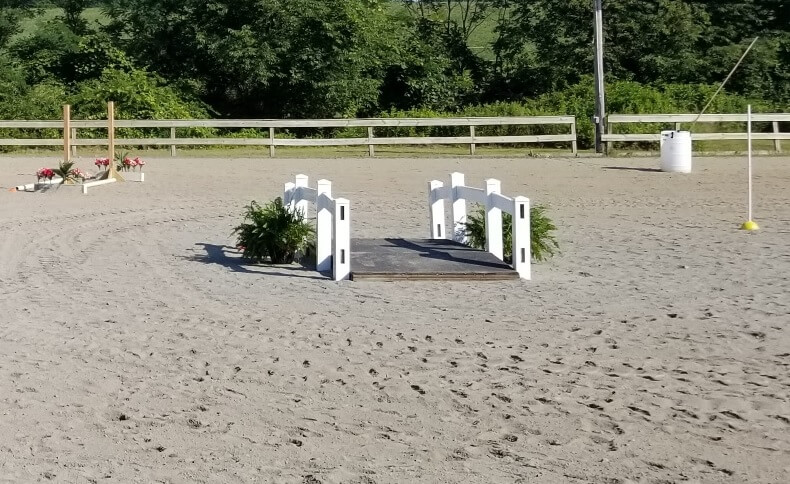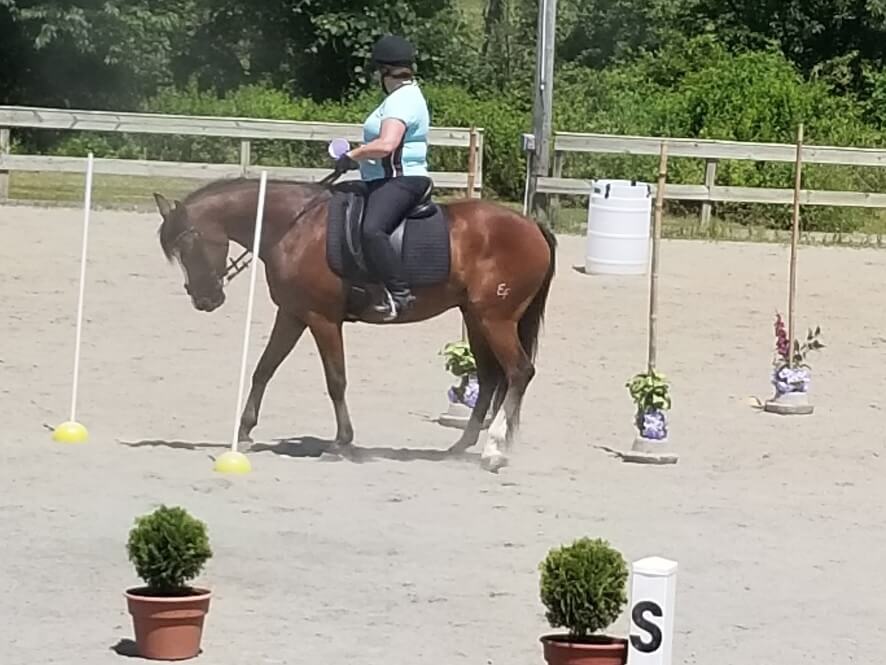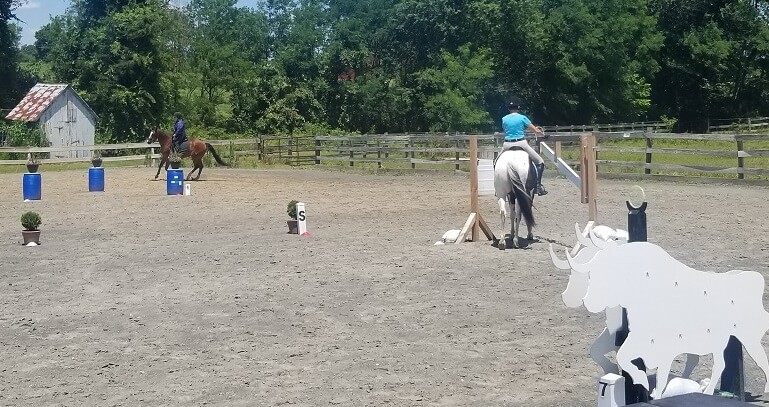 Chickens!
For the July clinic, we brought chickens to liven up the round pen obstacle. On the first day, the horses had a chance to meet the chickens in the warm-up area (lots of space). On the second day, the chickens moved into the round pen.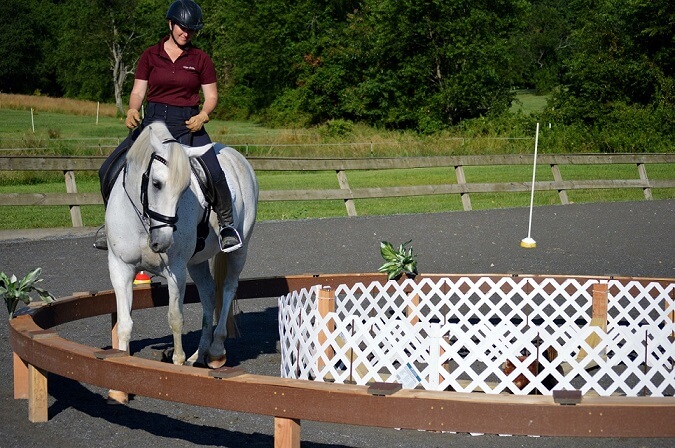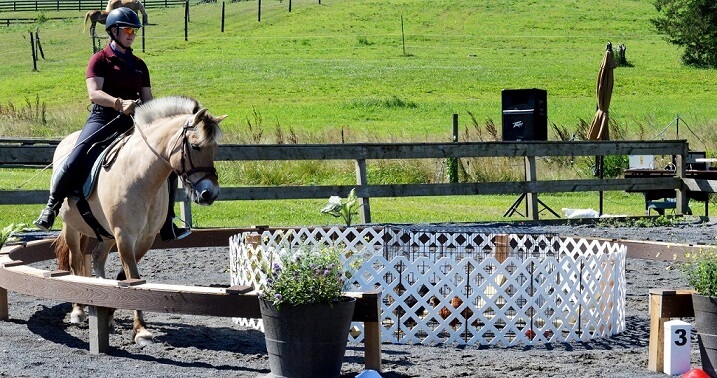 All the horses did very well and learned to perform even with chickens nearby!
Tips for lance and ring in Working Equitation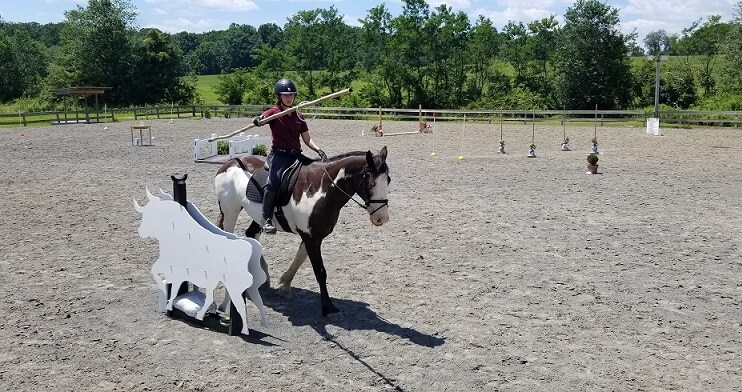 The Working Equitation lance and ring should be introduced slowly to horses. For first timers, this means doing everything from the ground until your horse started to get used to the concept. In particular, rehearse all the scary conditions from the ground so that your horse learns it isn't in danger.
Carrying the lance can be scary to a horse because it is moving near their head, following them as they move, and might touch or bonk the horse if the rider loses their balance.
Pulling the lance out of the barrel and returning it to the barrel makes noises the horse must get used to.
If you successfully lance the ring, it will make a rattling noise as it travels down the lance. Horses can be alarmed when the ring moves toward them (on the lance) and time must be taken to get the horse used to the ring traveling along the lance.
Riders must spend time learning to navigate their horse successfully with one hand while maneuvering the lance with the other hand in order to perform this obstacle smoothly.
When moving through other obstacles, Kimberly recommends balancing the lance on your shoulder so that it doesn't get caught on anything.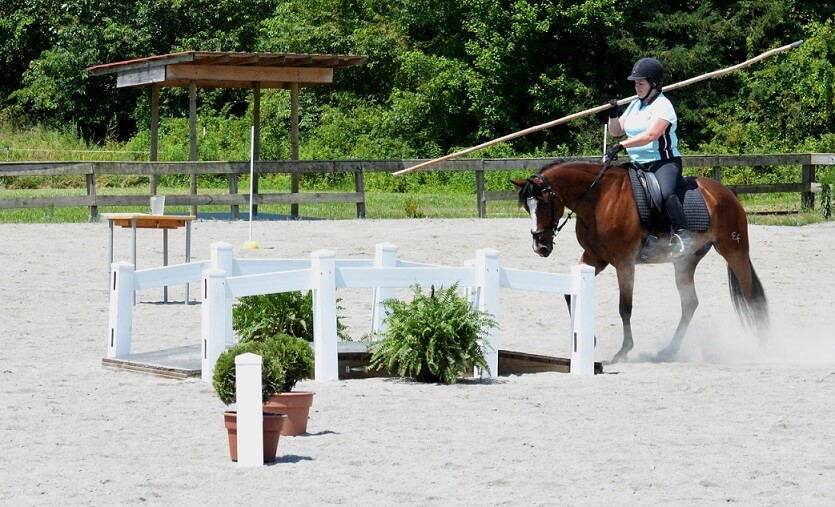 When you lance the ring, it is important to catch it with your thumb as it travels down the lance. If you don't catch it, the ring can go around your hand and the lance and lock them together (this is bad).
When you place the lance back into the barrel, you should be 'laying it down' not just throwing it in. This improves your score.
Jumps in Working Equitation
The jump obstacle in Working Equitation is meant to be a 'working horse' test. The intent is that a horse can jump a small hay bale or log on the trail. No huge jumps!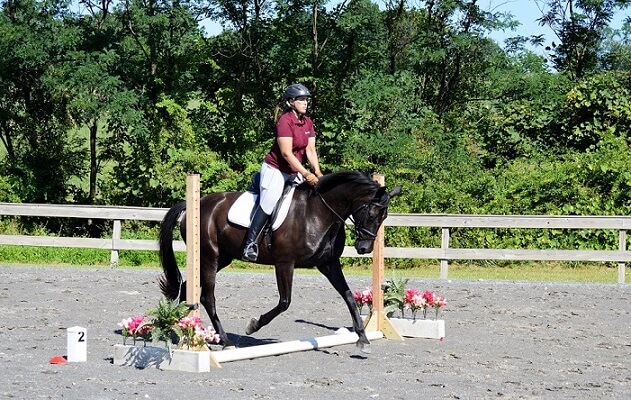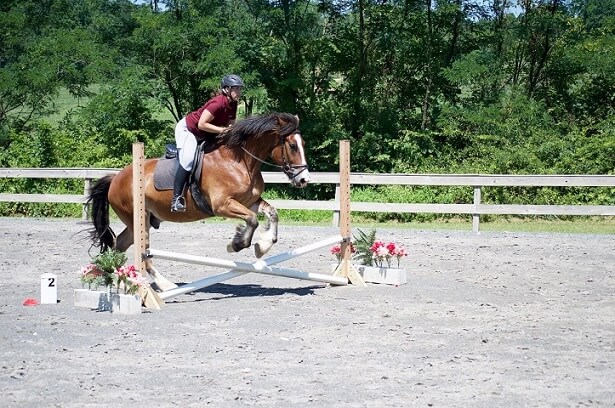 Intermediate jumps are a maximum of 22″ high and Master's level are 39″ or less.
Tips for EoH and Speed course design
We found it useful to design the obstacle course using scale models on the computer. This blog post talks about how we did it.
General information about Working Equitation and Keep Stables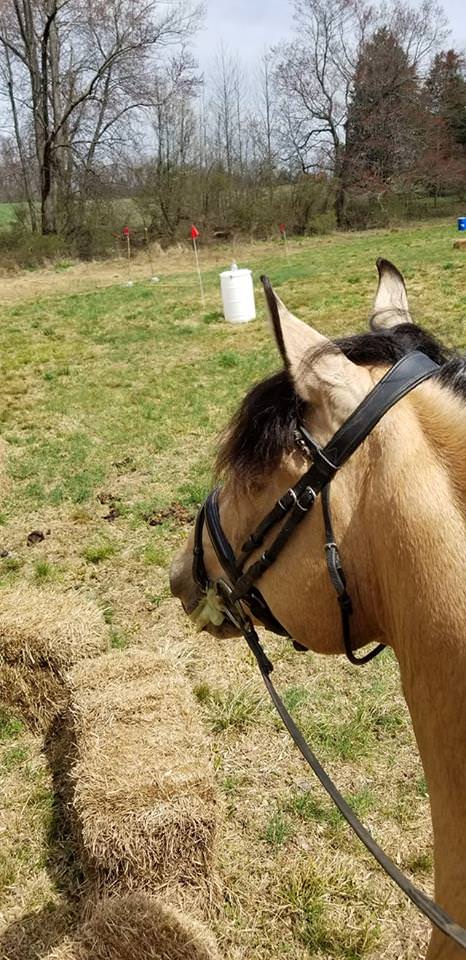 Keep Stable is an Affiliate Organizations with USAWE and partners with other local groups to provide great Working Equation opportunities and events to the area!
We have a very active group of Working Equitation riders schooling Intro through intermediate levels who are very supportive and welcoming to those new to the sport. We also partner with local farms Oak Spring Equestrian LLC and Karmic Run Stables to offer a wide variety of educational and competitive opportunities for the seasoned WE enthusiast and those who are new to the sport and in search of some guidance.
National Championship Speed Trial Video (MUST WATCH!!)
This video is just fun to watch, and shows what Master's level Working Equitation looks like. It is the "speed trial" phase, which is scored by how long it takes to complete, so the rider is moving fast!
Never tried Working Equitation before?
We are amateur friendly and have riders of all skill levels to practice with.
Do you have a Baroque or Spanish horse, such as Andalusian or Lusitano?
These breeds are naturals at Dressage and Working Equitation due to their beautiful movement, collection ability, and temperament. Holly Linz has trained several full and half Andalusian horses up the levels.
We are a sponsor of ERAHC (Eastern Region Andalusian Horse Club) and between our farm and First Choice Farm, we have a large group participate in the August breed shows each year. ERAHC offers recognized Working Equitation shows each year, either standalone or as part of their regular breed show series.
What does Dressage have to do with WE?
Being educated in English / Western Dressage gives a major advantage to riders who want to do Working Equitation.
Dressage teaches you and your horse the balance, collection, and coordination necessary to perform well on an Ease of Handling or Speed course. For example, an upper level WE horse performing the figure-eight would be doing a collected and upright canter with flying changes for each change in direction around the obstacle. These are dressage skills.
Dressage by itself is an entire 1/3 of the score for most Working Equitation shows! No obstacles – just precision figures and movements in a small dressage arena.
Because Keep Stables riders already specialize in dressage with Holly Linz as our trainer, we find that Working Equitation is a natural next step to progress in our skills and have fun with our horses! It helps to keep the horse and riders mind fresh, and have new way to approach training goals and challenges.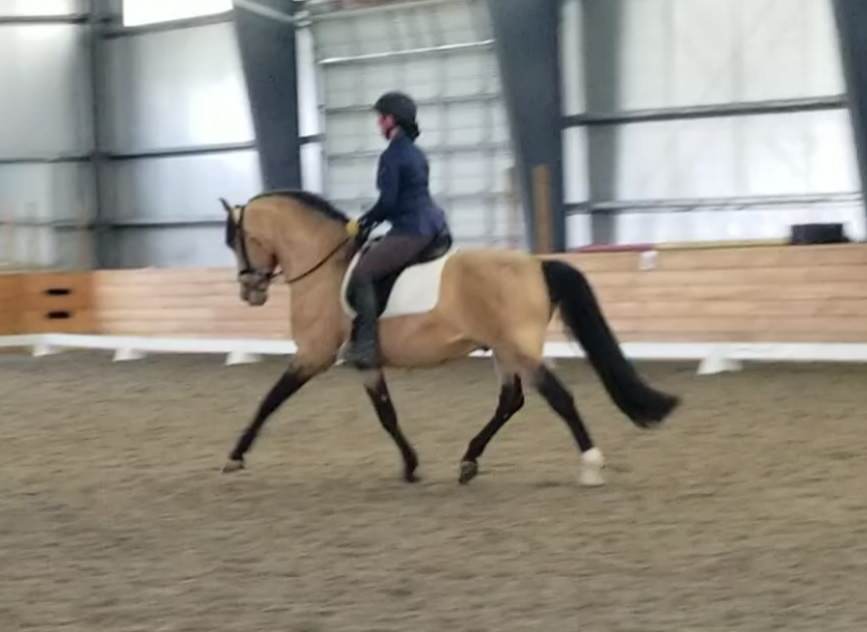 Keep Stables is located in Woodbine, MD which is about 45 minutes north of DC, 30 minutes west of Baltimore MD, and 30 minutes east of Frederick Maryland.
Our farm has a full complement of Ease of Handling equipment.
"El Blanco Diablo" the white bull figure for the precision lance obstacle
A full size solid gate with latch, and a rope gate
Round pen
Side pass poles
Garrocha poles
Bridge
Rein-back obstacles such as the cup, bell, and L-shape
Adjustable jump
Figure riding obstacles such as figure-8, drums, single and double slaloms.
Bank and water crossing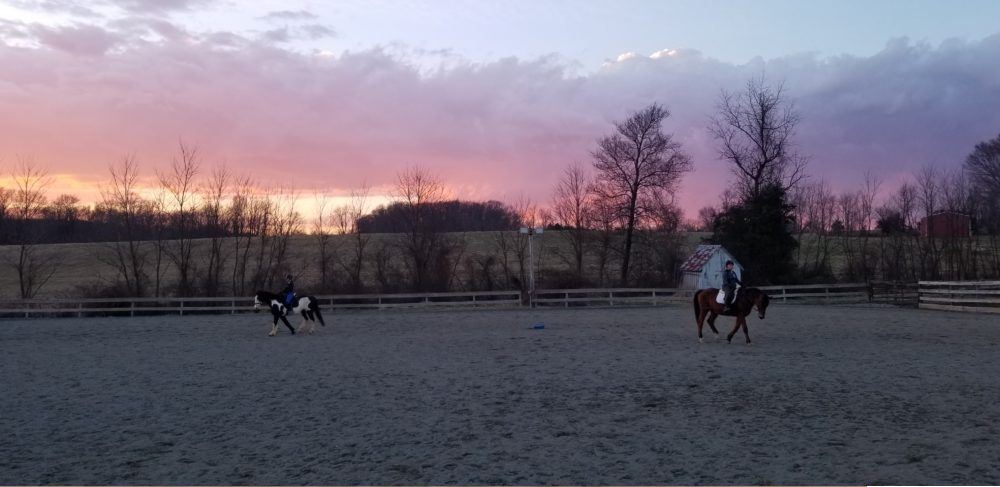 Working Equitation Clinics and Training
Please email us for the schedule of our clinics and small group practice sessions – we are accepting new students and horses for training, and offer regular clinic days for outside riders.
Our upcoming events calendar can be viewed at the bottom of this page (scroll all the way down). This calendar generally has the big events for the farm. Practice and schooling sessions scheduled less formally.
Our head trainer Holly Linz can assist you in learning the ease of handling obstacles and give dressage lessons to you and your horse.
We have access to a nearby farm with beef cattle and will have a few trips a year to practice cattle handling and get used to the ranch environment.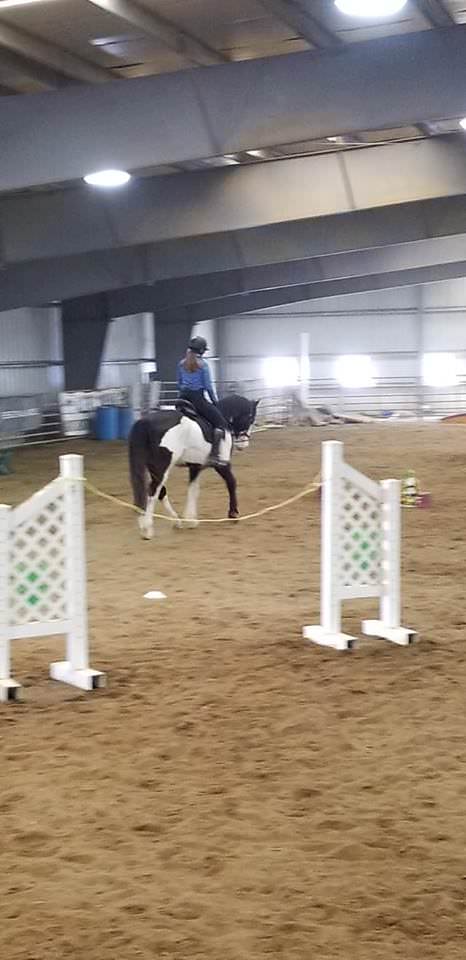 What is Working Equitation?
Working Equitation is a new, rapidly growing horse sport that is amateur friendly and lots of fun! It has spread to several countries worldwide, and is strongly influenced by the Spaniard cattle handling traditions.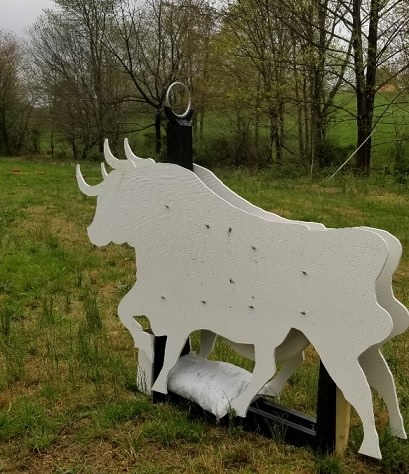 Style is important in Working Equitation – riders are allowed to choose their own style of dress and tack, and are not required to wear helmets. Examples include: Formal English, Portuguese, Western USA, and Spanish.
A wide variety of tack and bits are allowed such as hackamores, snaffles, curb bits, and bitless bridles, which makes the sport welcoming to a wider range of riders. Riders are expected to stay consistent with their style by using the same dress and tack for all phases of the Working Equitation show.
A Working Equitation show has four phases:
Working Dressage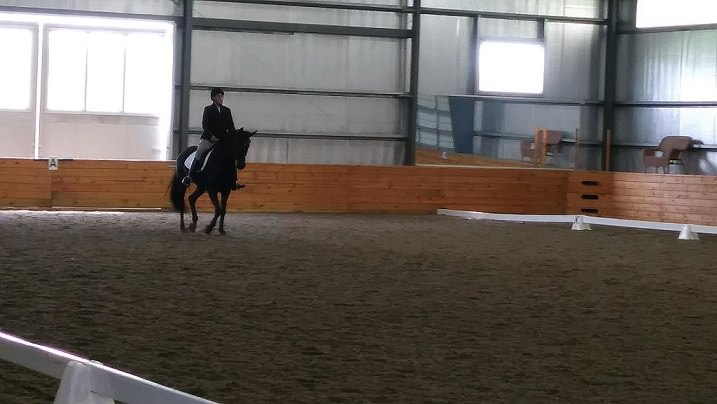 Very similar to the USEF / USDF Dressage Tests, the Working Equitation Dressage tests are performed in a 20×40 meter dressage arena and follow the same basic movements as English and Western dressage tests. For example, Intro dressage has walk-trot figures such as 20 meter circles. Novice dressage includes a short rein-back and turn on the haunches. Intermediate and higher tests include collection, flying changes, and other precision movements.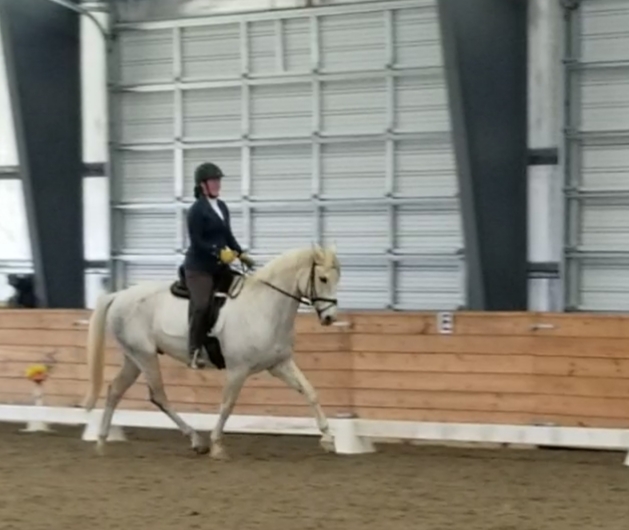 What is the Working Dressage phase? It is a test to show the rhythm and regularity of the natural gaits and the precision of the horse to prepare for the other 3 phases. These are achieved through systematic gymnastic movements which are judged individually on a scale of 0 -10. Working Dressage does seek to demonstrate a horse's natural athletic ability, willingness to work and lightness as does traditional Dressage and Western Dressage.

It differs from Competitive Dressage as there is not an emphasis on extension work and the trot is only used as a training gait and appears in the tests less and less as the levels advance, focusing on the working gaits of the walk and canter.

Working Dressage creates an opportunity to chain together the movements usually practiced in a work situation with cattle. Working Dressage requires that a horse show regularity and purity of gaits performed in horizontal balance who is then able to continue on to perform obstacles, work cattle and remain obedient at fast speeds.
Ease of Handling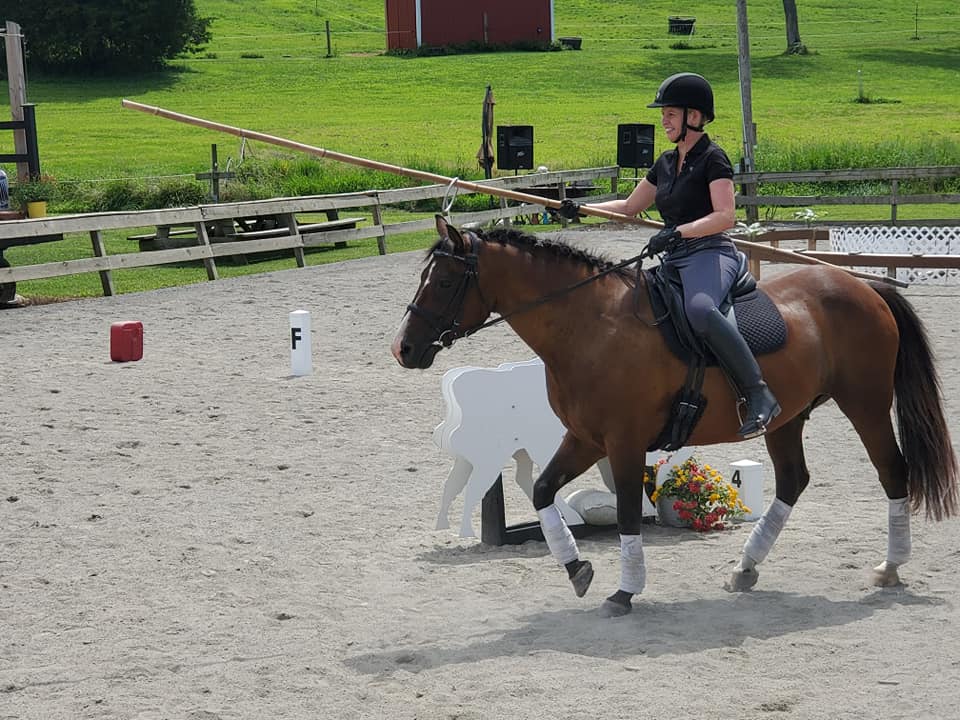 This phase is most similar to a Trail Competition, but is less about surviving and more about showing that you and your horse are working together as a team. The test replicates the tasks a cattle working horse would be expected to perform during a day on the ranch.
During a test, you will be expected to move through about 10 obstacles such as a gate, an L-shape, a low bridge, and slalom poles. You might stop by a barrel and hoist a jug of water overhead, then set it down. In between obstacles, you would trot or canter. Sometimes there are live animals in the round pen obstacle (such as chickens), which tests your horse's experience and temperament.
You are judged by how efficiently you and your horse progress through the obstacles. Does your horse wait calmly while you manipulate the gate? Is your figure-8 around the barrels round and symmetrical? Does your horse willingly walk over the bridge or do they try to race across?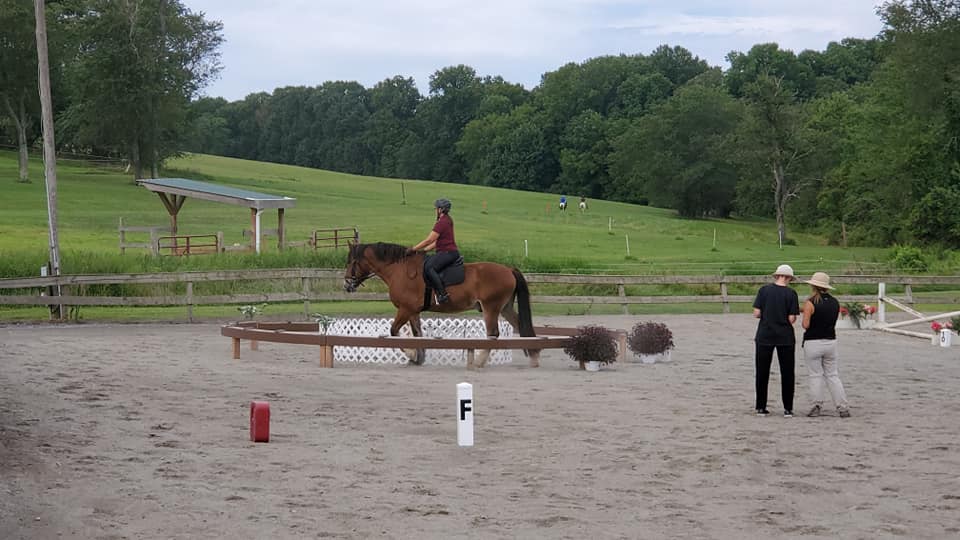 What is the Ease of Handling phase?

This phase which in other countries is also called 'Manability', 'EOH' 'Style phase' 'Obstacle test' or 'Handiness test' is an obstacle type event in which horse and rider must overcome elements which symbolize the difficulties natural and not, relative to those likely to be encountered in the field (i.e. crossing bridges, passing through gateways, side passing, etc).

The manner in which the obstacle is executed – focusing on agility, submission, working attitude, as well as ease of movement and of handling – is scored by a judge the same way as the Working Dressage test on a scale of 0-10 for each element.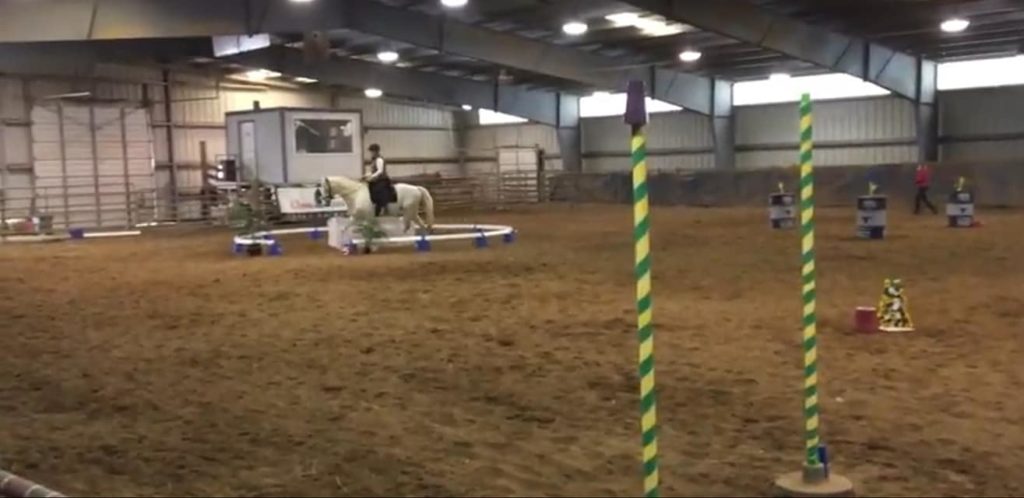 Speed Trial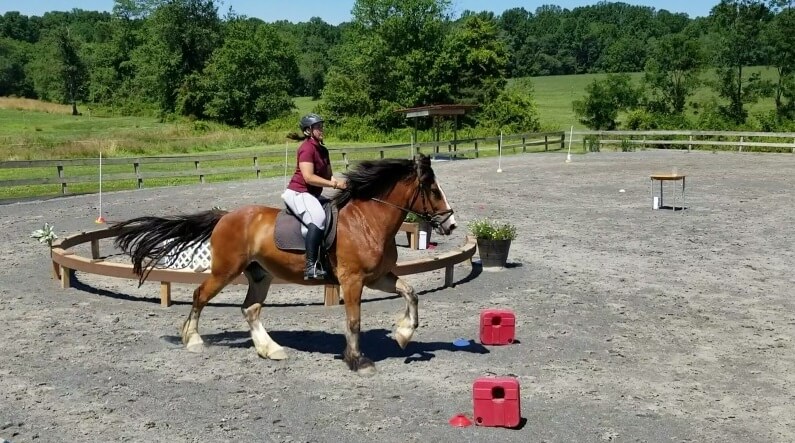 The speed phase goes through the same set of obstacles as the Ease of Handling test, but the score is based on completing the obstacles at speed. For example, the rider who completes all obstacles in 2 minutes will beat the rider who completes the obstacles in 3 minutes. If you cannot perform an obstacle, there is a set penalty assigned such as 10 or 30 seconds added to your time.
This is an exciting competition to perform and observe! Remember though – none of these phases are required; some riders will only perform the dressage phase and ease of handling while others will sign up for all four during a competition.
From the Confederation website:
What is the Speed phase?

This is the second test of handiness, the first "EOH' (listed above) is a test of technical handiness; this is a test of time handiness.

It is a timed obstacle race, using the 'Ease of Handling' Obstacles. This is the same event as 'EOH' but measured in an objective way by the use of a stop watch -timer. The goal is to promote the horses which are most manageable. The individual scores are based on elapsed time through the obstacles and time penalties for course errors.

The routes and the penalties applied for the mistakes must be such as to prevent any attempt to promote just the top speed, and not the handiness which would be contrary to the spirit of the discipline.

It is the most exciting element in the Working Equitation competition series.
Cattle Handling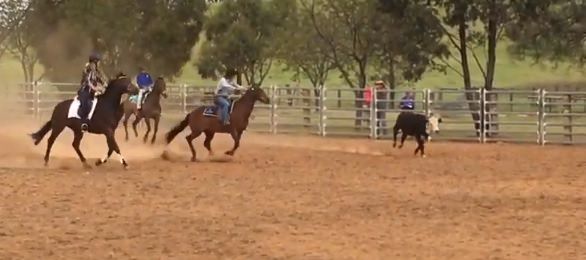 This phase is only included in some shows since it can be difficult to find appropriate livestock. Riders are judged in their ability to separate a specific cow from a group and herd it into a holding pen. This takes equitation skills similar to a Western Cutting Horse.
From the Confederation website:
What is the Cattle Handling phase? The Cattle handling phase is the essence of the sport of Working Equitation. It is performed by a 'Team' of three or four riders.

This is a timed test which is to prove the skills of the competitors with cattle.

The constraints of the test are to show: 1.) A calm approach to the cattle. 2.) The isolation and the sorting of the cattle in respect of the integrity of the herd. 3.) The conduct of the cattle sorted efficiently and accurately. 4.) Teamwork.

The event consists of team members individually separating a particular animal from the herd, and then as a team herding it into a separate pen. It is similar to the American sports of Team Penning or Ranch Sorting.
ERAHC (Eastern Region Andalusian Horse Club) which puts on multiple Working Equitation shows each year on the east coast, works closely with USAWE to include recognized competitions and events.
For most riders interested in WE, you don't need to pick between the two. Just go to whichever events you are interested in.
Helpful links about Working Equitation
The National Organization for Working Equitation Links