Keep Stables LLC has been in operation at Chapel View Farm, 2610 Jennings Chapel Road, Woodbine MD 21797 since  early 2015.
Classical dressage trainer convenient to Mount Airy, Woodbine, Gaithersburg, Olney, and Damascus MD.
Keep Stables offers field and stall boarding set on over 70 acres, as well as training opportunities for horses and riders. All disciplines and anyone dedicated to the well being of their horse are welcome.
Horse Boarding Facility in Woodbine MD: 
Amenities include a large, lit and well maintained bluestone footed outdoor arena, hot water washrack, individual tack space, a custom tailored feed program including high quality forage and feeds, indoor restrooms and lounge facilities for boarders, and a very supportive atmosphere of people committed to the well being of other the horses and riders on the farm. 
The property also enjoys direct access to miles of trails ranging from open fields to wooded areas and streams, via the Patuxent River State Park trail network and adjacent farm fields.
Is Keep Stables for you?
We welcome multiple disciplines, from trail/pleasure riders to competitive sport riders. Our number one requirement is for our boarders to be respectful and supportive of fellow riders and committed to the well being of the horses. 
We can help you find your next equine partner or the perfect home for your current horse. We have an active group of students preparing for competition at recognized Dressage and Working Equitation shows. Training is available for horse and rider. 
Development of a happy, healthy, and productive horse is the number one priority, no matter what the goal may be! 
Holly Linz: dressage and working equitation trainer
Barn manager and head trainer Holly Linz always puts the health and happiness of the horse and rider first, and insists that barn staff treat all boarded horses as though they were their own.  She understands that a happy horse makes for a happy owner. Holly runs her own boarding facility so she can ensure all horses in her training program, including her own, are provided the most ideal environment to be the most capable riding partners they can be. A horses environment has a huge impact on how happy and productive they can be. 
Holly Linz is an accomplished Dressage rider, trainer, and clinician. She has studied under Felicitas von Neuman Cosel  for over 15 years, and has worked with numerous other national level trainers.  Holly's training methods incorporate Classical Dressage principles with natural horsemanship to improve understanding and communication between horses and riders.
The focus is on building a harmonious relationship in order to help both horse and rider reach their full potential. All disciplines have found improvement with Holly's assistance, from beginner to intermediate/advanced riders.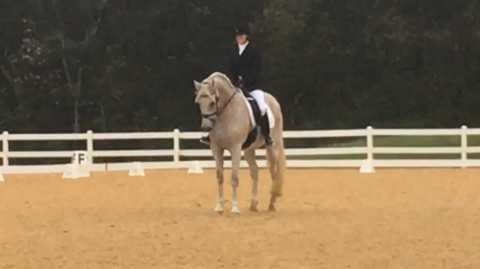 Fundamentals: Dressage and natural horsemanship to build better relationships
We practice classical Dressage and natural horsemanship principles to bring horses and riders together in the most effective ways to help them reach their full potential.  Whether your goal is strengthening your relationship with your horse, or reaching a new level of competition, you may find ways to reach your goals with our help.
For students interested in progressing through competition, we have an active group showing at local recognized and schooling shows in Eventing, Dressage, and Working Equitation. We also regularly host clinics with recognized officials in all three of those disciplines.
Check out our Events Page for info on coming events! 
To contact Holly about training or boarding, email keepstables@yahoo.com    or call/text (913) 710-5792
Facebook page:  https://www.facebook.com/KeepStables/